7.0″LCD Cape for Beagle Bone Black
The 4D 7.0″ LCD CAPE which features a 7.0″ TFT LCD 800×480 resolution display, is a cape specifically designed for the Beagle Bone Black (BBB). It provides a 7.0″ primary display for the BBB for direct user interaction and information display, along with the ability for additional CAPES to be attached at the same time.
The 4DCAPE-70T utilises the drivers developed for the CircuitCo LCD7 A3, however it provides a different form factor and pricing point to the LCD7.
The BBB connects directly to the back of the 4DCAPE-70T, and allows everything the CAPE requires such as power and display signals. Another CAPE can be added to the secondary connectors on the back of the module if required.
The 4D 7.0″ LCD CAPE features 7 push buttons below the screen, LEFT, RIGHT, UP, DOWN, ENTER, RESET and POWER, along with 2 LED's to indicate Power and User Status (normally heartbeat).
Mounting of the 4DCAPE-70T is achieved with the 4x 3.5mm mounting holes present on the CAPE, enabling standard M3 or #6-32 screws to fasten the 4DCAPE-70T as required.
Please note that the 4DCAPE-70T is designed to be the primary display for Beagle Bone Black only and cannot be programmed using 4D Systems Workshop 4 IDE
NOTE
The 4DCAPE-70T is not compatible with the previous Beagle Bone (Beagle Bone White), and can only be used with the Beagle Bone Black.
ANNOUNCEMENTS
NOT RECOMMENDED FOR NEW DESIGNS
Please contact Sales for Questions/Concerns
Please refer to our gen4 range for alternate products
Information about the display module
7.0″ TFT LCD CAPE for the Beagle Bone Black
Resistive Touch Display
7 push buttons including LEFT, RIGHT, UP, DOWN, ENTER, RESET and POWER
2 LED Lights for Power and User
2×2 Jumper with shunts for EEPROM CAPE ID selection
Module dimensions:165 x 100 x 19.5mm
Module dimensions with Beagle Bone Black connected:
Approx 165 x 100 x 19.5mm
4x 3.5mm Mounting holes
RoHS and CE Compliant.
The 4DCAPE-70T includes the following items:
4DCAPE-70T Display Module
| | |
| --- | --- |
| Diagonal Display Size INCHES | 7.0 |
| Resolution | 800×480 |
| Brightness | ~280 cd/m2 |
| Backlight LEDs | 2×5 |
| Touch | Resistive-Touch |
| Operating Ambient Temperature | -15°C to +65°C |
| Storage Temperature | -30°C to +70°C |
| Display Viewing Area (mm) | 154.08 x 85.92 |
| Module Dimensions (mm) | 114.90 x 179.90 x 19.50 |
| RoHS? | Yes |
| Country of origin | Australia |
| CCCN / tarif code | 85312000 |
| ECCN export control code | EAR99 |
| TARIC Code | 8531209590 |
| AHECC Code | 85312000 |
| Package Dimensions L x W x H (mm) | 215 x 155 x 41 |
| Product Weight (g) | 224 |
| Weight with Packaging (g) | 310 |
| REACH | Yes |
| CE Mark | Yes |
| Supply Voltage | 5.0V DC |
| Supply Current | ~2A (for BBB) |
| Frame Rate | 25 fps |
| colours | RGB 65K |
| RAM | N/A |
| I2C | N/A |
| GPIO | N/A |
| SPI | N/A |
| Viewing Angle | Standard Viewing Angle |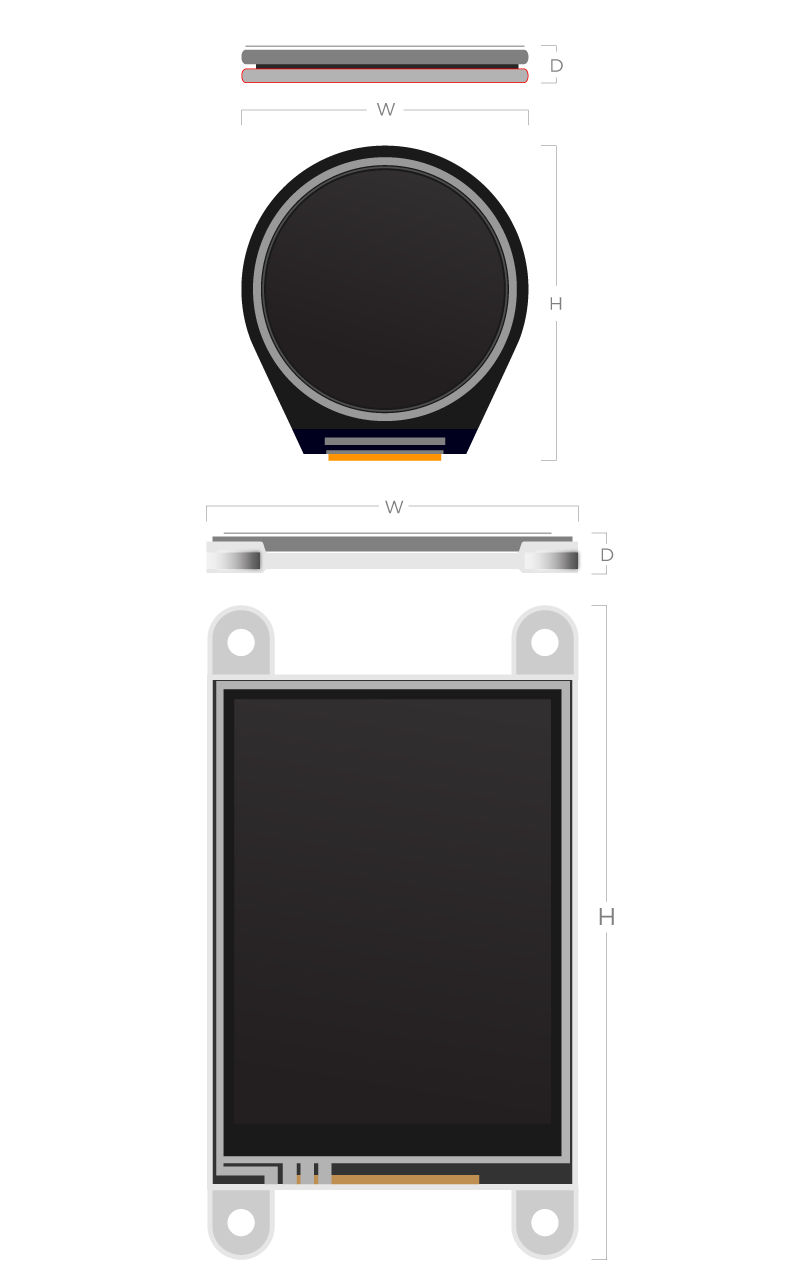 Viewing Area: 154.08 x 85.92 mm

Workshop4 is a comprehensive software IDE for Microsoft Windows that provides an integrated software development platform for all of the 4D family of processors and modules. The IDE combines the Editor, Compiler, Linker and Downloader to develop complete 4DGL application code.
All user application code is developed within the Workshop4 IDE.
DEVELOPMENT ENVIRONMENTS THAT SUITS ANY APPLICATION & USER LEVEL
Workshop4 includes four development environments for the user to choose based on application requirements or even user skill level.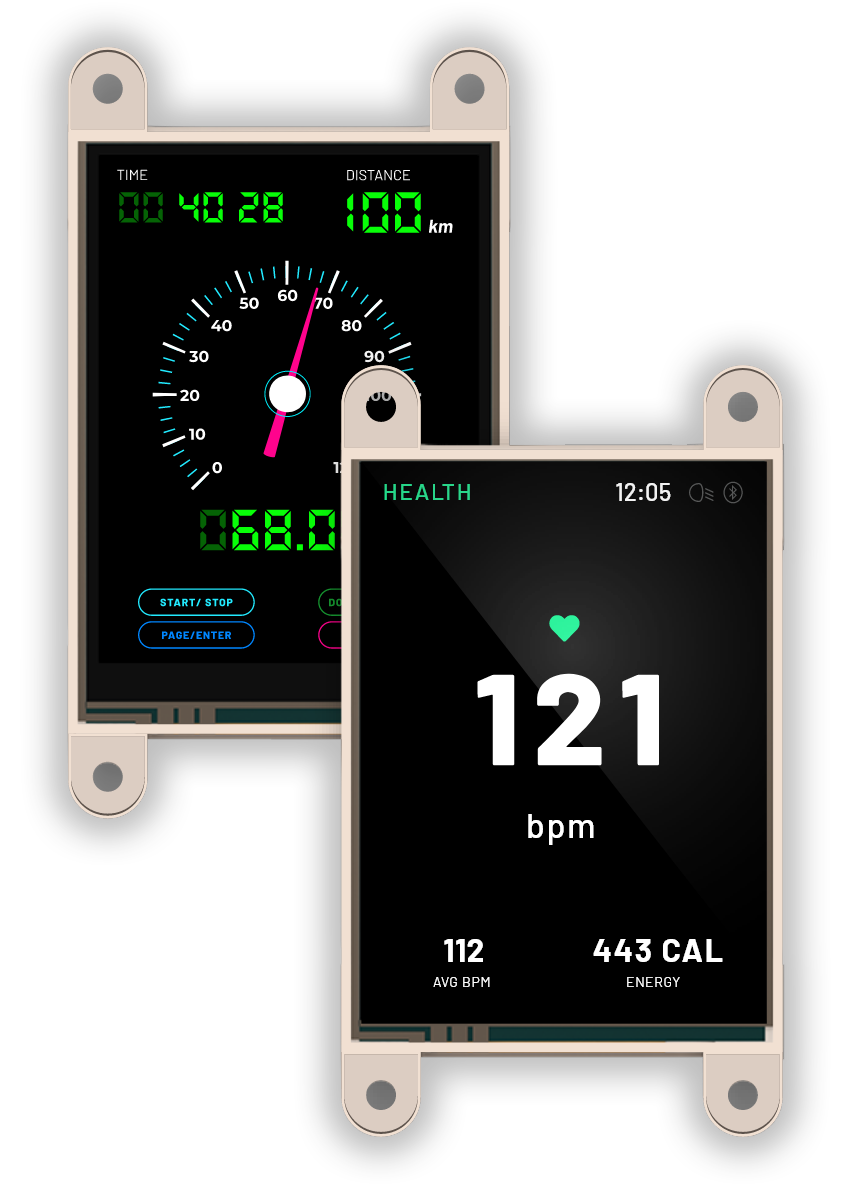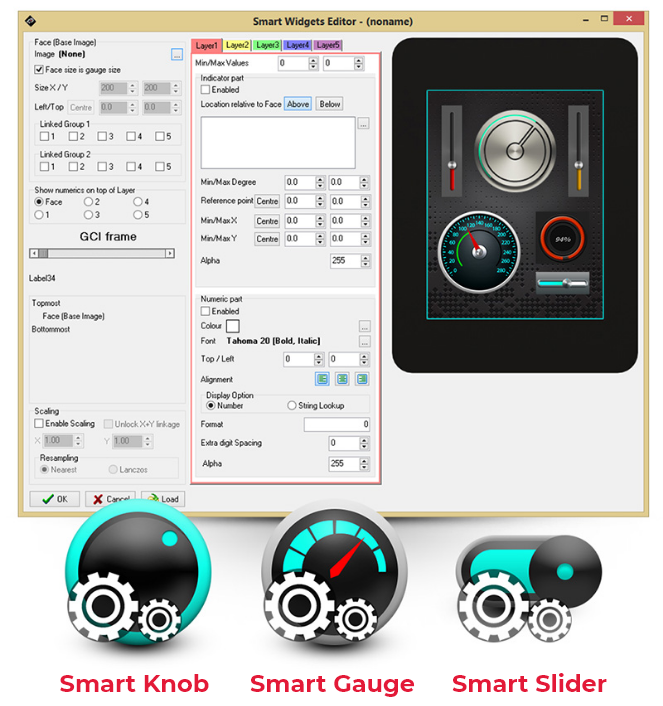 Make complex widget design, simple.
Smart Widgets Editor is a powerful utility which enables the generation of Smart Widgets.
Users can create complex widgets with up to six layers, including the layer for the base image. The order of the layers can be arranged as desired.

Each layer can contain one or more images arranged in sequence that can be manipulated in a variety of ways. Image manipulation options include horizontal motion, vertical motion, and angular motion. Additionally, the transparency of a layer can be set.

Two or more layers can be linked to produce synchronized movements of images. This enables the generation of complex widgets with multiple moving parts. Clockwork feature is also supported. This enables users to quickly generate clock widgets.

Each layer can have a numeric part which can display numbers in various fonts and formats. Alternatively, the numeric part can be a fixed sequence of text.

The output frames can be utilized using any of the supported Workshop4 environments.
Genie Magic is an extension to ViSi-Genie, which is available in Workshop4 PRO. Genie Magic allows the User to add 4DGL code to various points in the ViSi-Genie backend code, which allows Users to take full advantage of the power of 4DGL, while retaining the speed and convenience of ViSi-Genie and its defined communication protocol.
Genie Magic allows you to enter 4DGL code in the form of Events, Code and Objects, along with various touch related additions too, giving you to the power to achieve advanced GUI's in ViSi-Genie without having to write the full code yourself.
Genie Magic is fully supported by the genieArduino and geniePi libraries, making communication with an Arduino or Raspberry Pi host even more powerful.
When using Genie Magic in combination with the Smart Widget Editor, it is possible to use the Smart Widgets Editor tool and Smart Widgets to create other graphical user interface elements such as:
Dock Menu

Fading Slide-To-Unlock Button

Spectrum With Transparency

DOWNLOADS
Compatibility:
Workshop4 is a Windows-only product. It is compatible with Windows 8 through to Windows 11.
Note some older OS such as ME, Vista, XP and 7 have not been tested for some time and are not supported by Microsoft anymore; however, they may still work.
Legacy support updates for the older OS may not be possible, depending on what issues are found. For best results, run a current Windows OS.
It is possible to run Workshop4 under a VM on Linux or Mac. However, it is up to the User to set this up.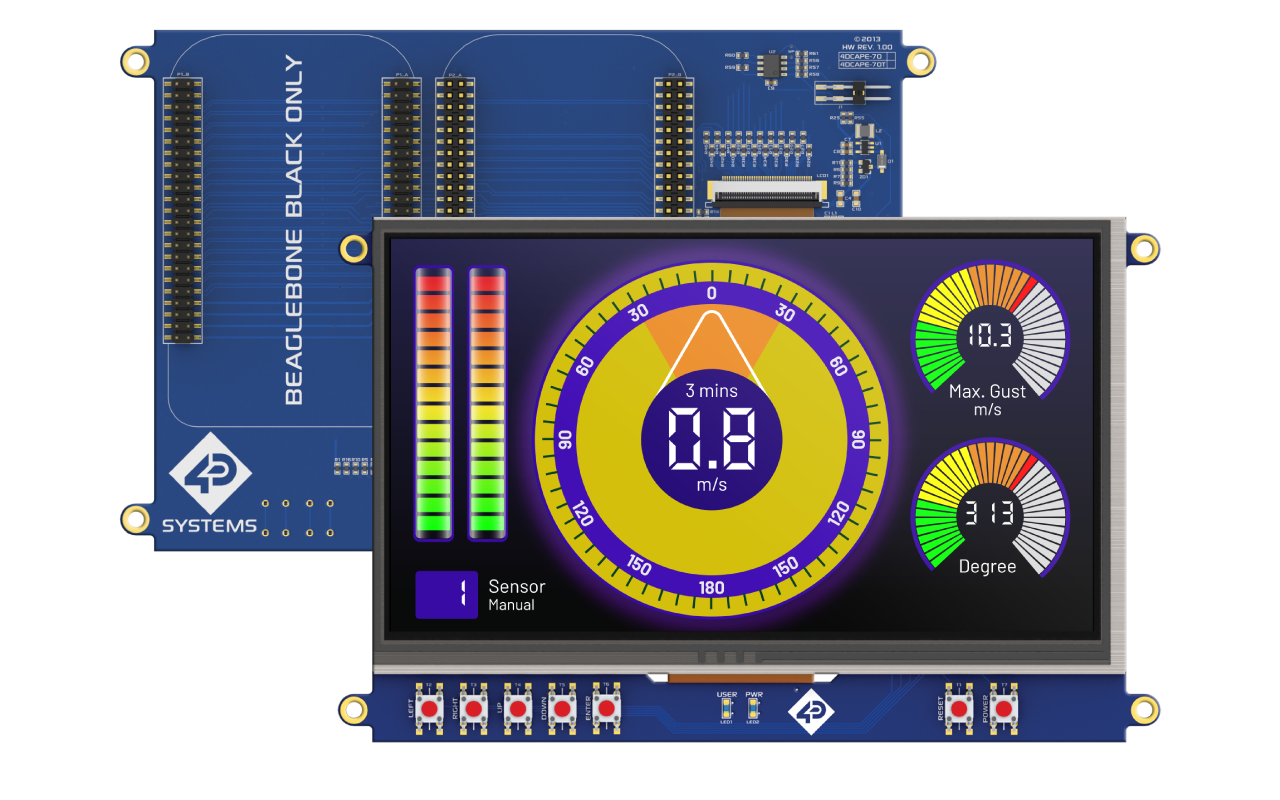 7.0″, 800×480 pixel Display Cape for the BeagleBone Black with Resistive Touch. Includes 7 push buttons and connects directly on top of the BeagleBone Black.
Starter Kits and Accessories
RFQ - VOLUME ORDERS
RFQ - VOLUME ORDERS
We are delighted to offer volume discounts to qualified customers and organizations.
Our dedicated Volume Sales team will address your specific requirements and help you get an accurate quotation in a timely manner.