Leonardo Bilalis, based in Athens, Greece, partnered with 4D SYSTEMS to source an intelligent display solution to embed in his 3D-printed Advanced Anatomical Medical Mask.
Introduction
Additive Manufacturing (AM), known as 3D Printing Technology (3PD) nowadays, has become an essential tool for the development of customised and personalised medical products, drugs and personal protective equipment. AM offers the opportunity and the flexibility to solve a variety of manufacturing challenges, most importantly turning 3D CAD complex geometry into real-life objects. Designing a medical tool requires critical utilisation, combination and implementation of several engineering sectors such as the material use, the 3D geometrical characteristics, the electronics, and in variety of applications the software development.
AM accelerates the customisation of a medical product's life cycle, providing the patient with a high level of medical experience by reducing the clinical recovery period, eliminating the need for additional medical peripherals and reducing the healthcare institution's overall costs.
In this study, the 3D Printed Advanced Anatomical Medical Mask, called "AMARYSIA ARTEMIS", is a modern and advanced medical 3D printed model for COVID-19, which is using an Intelligent Round Display from 4D SYSTEMS, a global leader in intelligent display solutions. The mask also contains several biometric sensors and is 3D-printed using the latest 3DP technology from Stratasys, which is a world leader in 3D printing systems for a variety of 3D printing and medical applications. The 3D Printed Advanced Anatomical Medical Mask is designed especially for patients and medical staff in intensive care units (ICUs). Sensor information is displayed for medical purposes and indicates critical values during operation and/or clinical applications.
One of the most important parts of the overall assembly is the Smart pixxiLCD-13P2, a round display with an on-board high-precision programmable intelligent computer and memory chip. The display was chosen for its ease of use, both for its size and programming characteristics.
The pixxiLCD-13P2 round LCD display provides instant information from the user, sharing that critical data via the IOT internal system to a bigger display for quick examination and response.
This project is being carried out by Leonardo Bilalis, PhD student at the University of Piraeus and member of the Industrial Systems Research Group. The Group, led by Prof. Vassilis Dedoussis and managed by Assoc. Prof. John Giannatsis, has extensive experience in R&D in the field of 3D Printing and Additive Manufacturing since 1996. Relevant topics, which have been addressed by the Group, include a broad spectrum of technical issues (e.g. optimisation of machine programming, estimation of quality and cost of production with different 3DP/AM methods, development of software for interconnecting with CAD systems and decision support systems for AM machines, environmental impact assessment of 3DP/AM, Bioprinting technology, Design for AM etc.), as well as business and economic exploitation of AM-technologies-related issues (e.g. 3DP/AM medical applications, physical prototype preparation and new product modelling, development of customised tools and devices for the 3DP/AM industry, architectural design applications, etc.). Most of the associated R&D has been carried out in collaboration with leading manufacturing companies working on various projects funded by European and Greek institutions.
Problem
In the University of Piraeus in Greece, a PhD project is currently being undertaken to create a 3D-printed medical mask with smart and bio-sensor capabilities. The mask will display key medical information and indicate critical values during operations and/or clinical applications for patients, doctors and nurses. The project team chose to focus their efforts on 3D printing due to its wealth of advantages compared to traditional design and manufacturing processes. 4ThDimension Technologies, which is the Stratasys Platinum Partner in the EMEA region since 2021, provides the researcher with all the necessary reverse engineering, rapid prototyping and computer-aided design advanced technologies, which helps in the product life cycle, reducing time and cost. Fourth Dimension S.A. was founded in 2009 and has been, since then, based in Athens, Greece, providing independent solutions for Smart Digital Transformation, supplying advanced product development technology, high-level consultancy and support services.
The 3D Printed Advanced Anatomical Medical Mask was initially designed during the early stages of the COVID-19 pandemic, with the purpose of helping medical staff in hospitals, and especially in ICUs. The project team had barely any time to focus on the design – they simply had to act fast. Design, creation and production of medical personal protective equipment (PPE) that would be efficient and provide the end user with enough protection against 99% of dangerous particles was their ultimate goal.
"During the first stage we tried to solve several design problems, such as the geometric design, the 3D printing materials we would use, the different sizes and geometries of a human's face, both men's and women's. One more issue we faced was the actual fitting of the internal face flange," says Leonardo Bilalis MSc.
Solution
Once the basic mask model was designed, a new challenge presented itself: they needed to find a way for the prototyped mask to integrate with a small, high-resolution display. After conducting their due diligence, they found that 4D Systems had a variety of intelligent round LCD displays that would serve the right purpose.
"We ended up testing and using not only the pixxiLCD-13P2, but many others unique LCDs from 4D Systems. For example, we used the 1.44"uLCD and the GEN4-ULCD-32PT in general use for testing, debugging and implementation of embedded programming."
With the LCD being the first immediate reference of the sensor's values, a significant number of round displays had to be tested for size, aesthetics and ease of use – for both programming and communication protocols. For this project, the main problem the team found was that none of the displays, apart from the pixxiLCD-13P2, had an internal intelligent embedded driver for the graphics.
Ultimately, the pixxiLCD-13P2 provided the team with the greatest flexibility to suit their 3D CAD geometry. They were particularly pleased that the characters on the screen were always clear and easily readable, even at such a small size, which would be extremely helpful in medical environments.
"pixxiLCD-13P2 offers a wide viewing angle, on-board smart graphics, embedded drivers and a variety of display tools that can be used throughout the workshop application. It provides the programmer with the option of two different operating platforms, which makes the product even more flexible and user-friendly."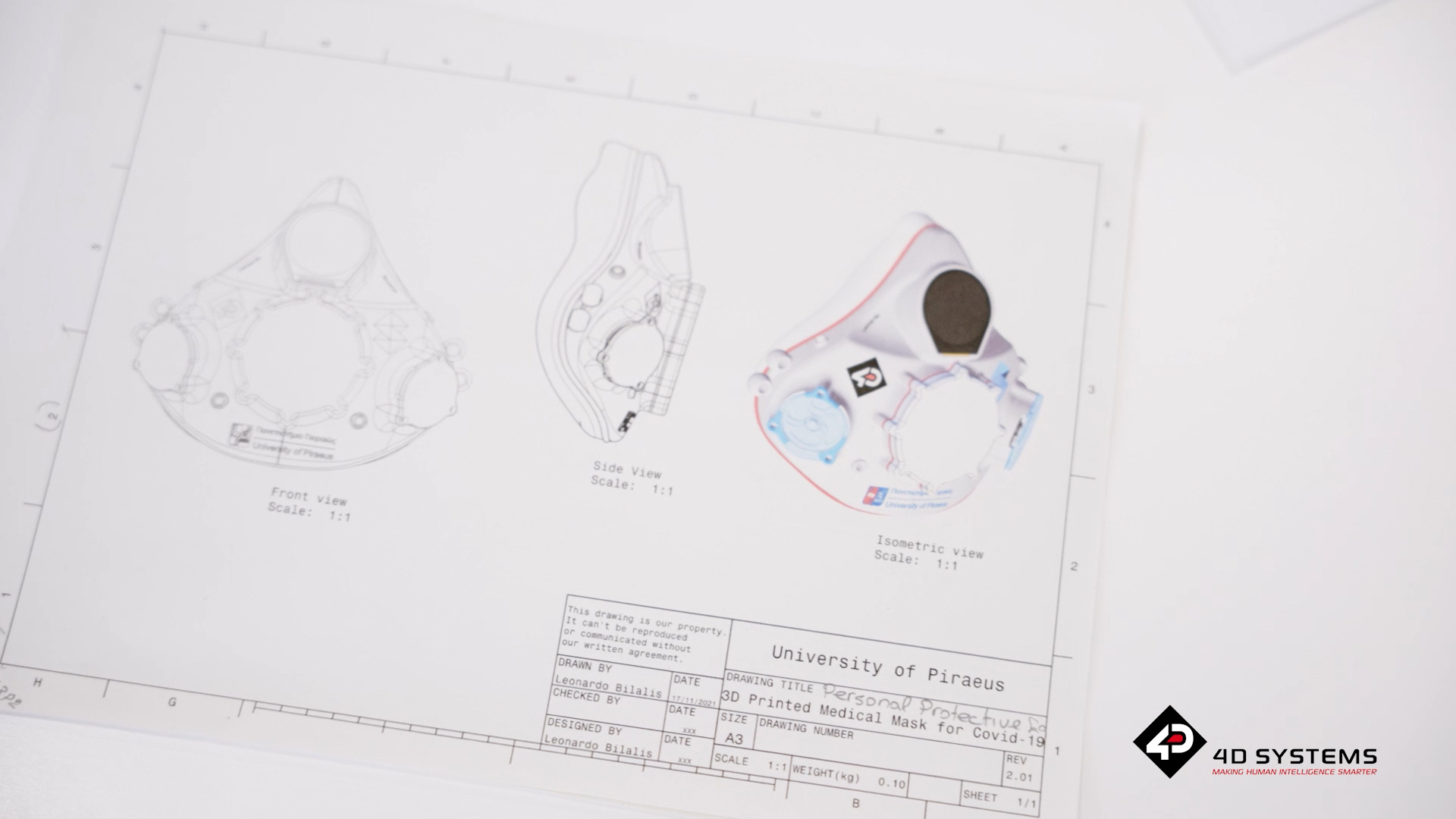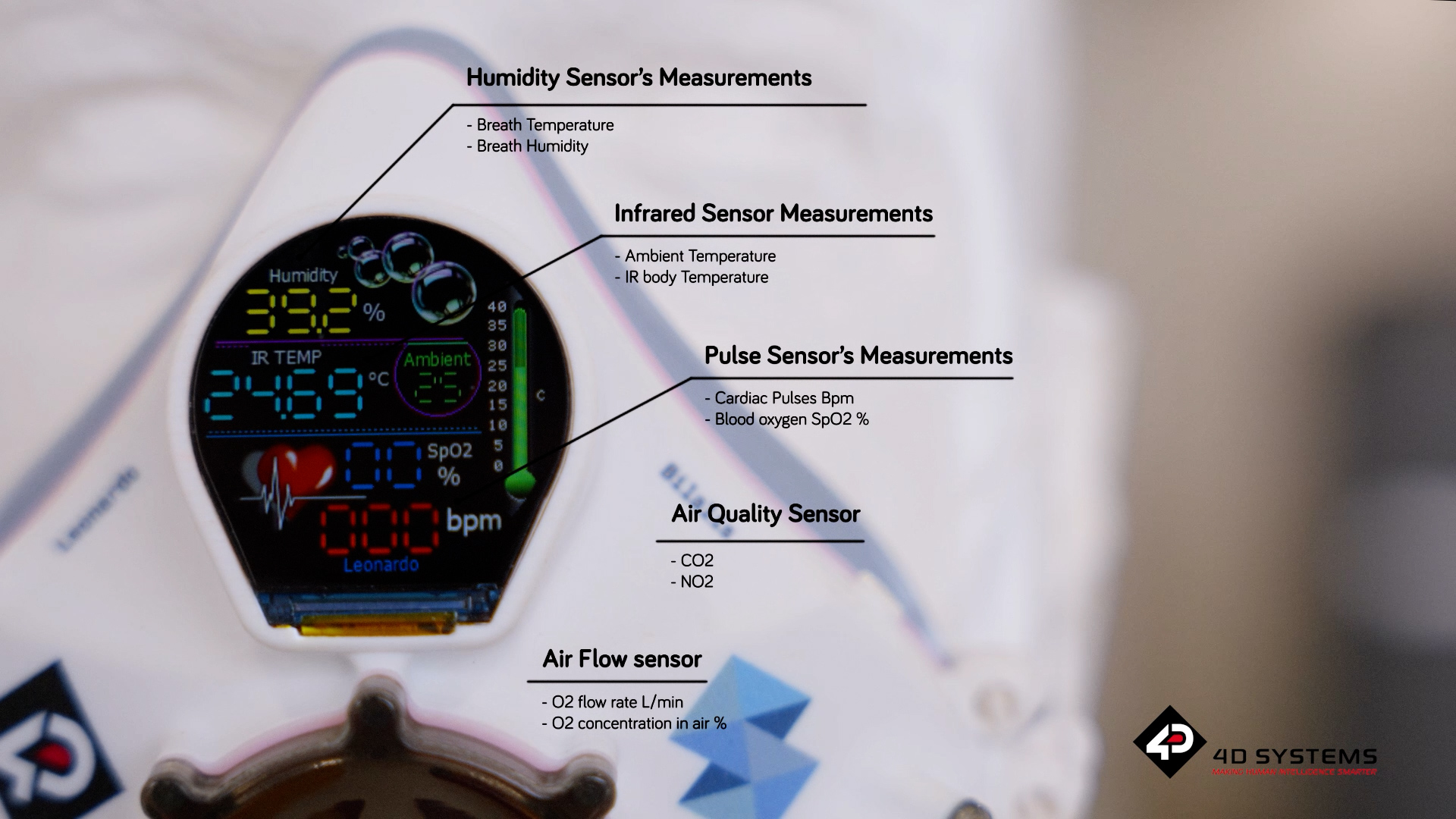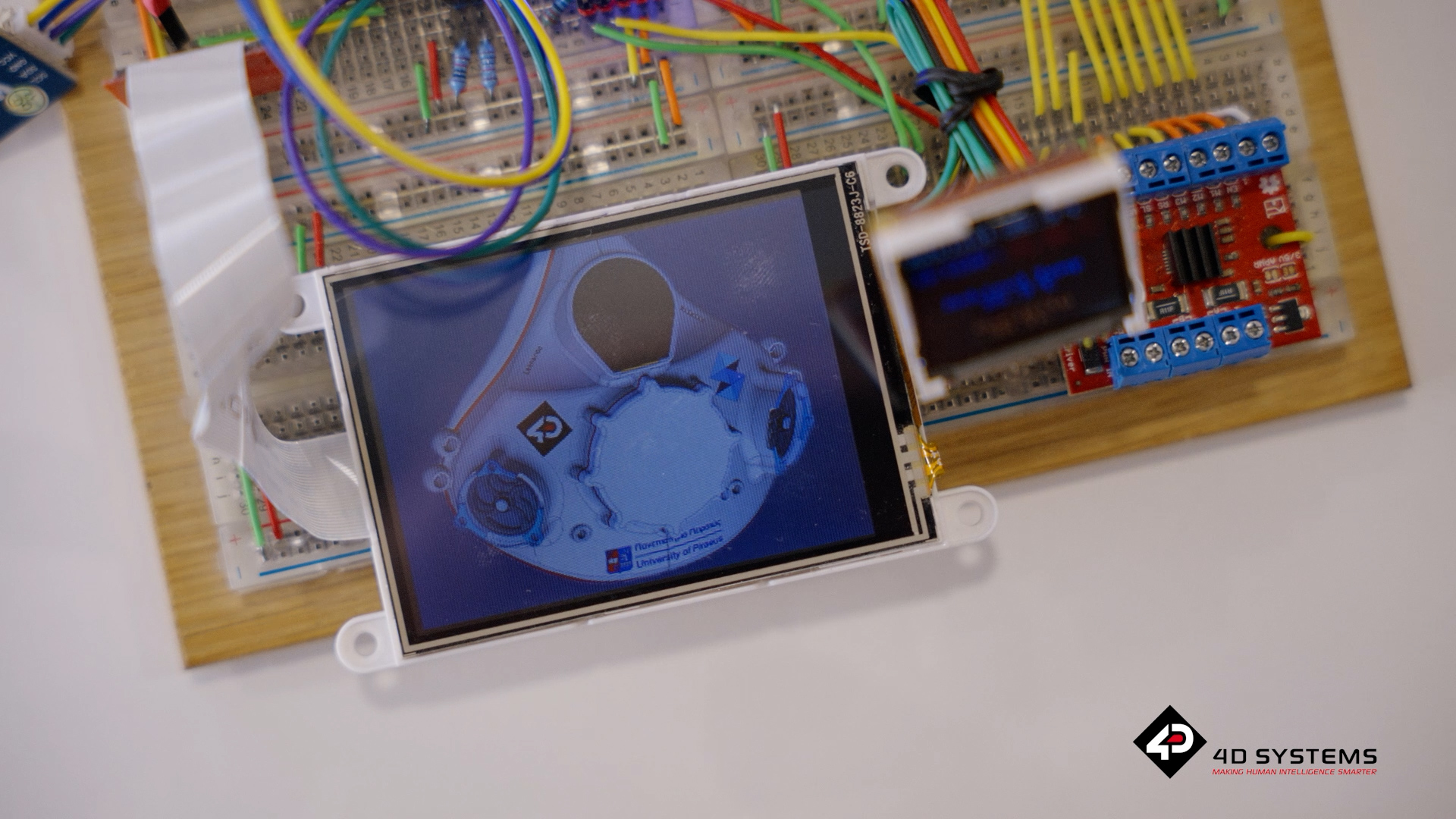 Outcome
While this is still an ongoing research project and the mask itself remains as an untested prototype, the team are confident that this is only the beginning for the 3D Printed Advanced Anatomical Mask.
"This piece of PPE will add much more useful and important medical value both for medical staff and patients in ICU. The better the people are, the more wonderful the technology."
One of the major keys to success in this project has been not just 4D Systems' LCD technology, but their customer support and understanding of critical medical projects.
"During our communications with 4D Systems, via email and via several web calls, the software engineering team helped us to customize the embedded operating platform to fit and meet our expectations. Customising the LCD's operating platform and graphical driver was a totally different and creative experience for us. It solved many of the software issues in no time.
"Having such flexibility and support from the 4D Systems team really helped in terms of the cost and time for the overall product life cycle. They also handled our concerns and showed a great level of professionalism."
The project will further develop and offer enormous opportunities across healthcare, providing easy, immediate and accurate medical information, which may help the patient and medical staff in ICUs. Further conversations are expected to take place as the mask evolves in functionality and use cases.
Latest Posts
Subscribe to our newsletter