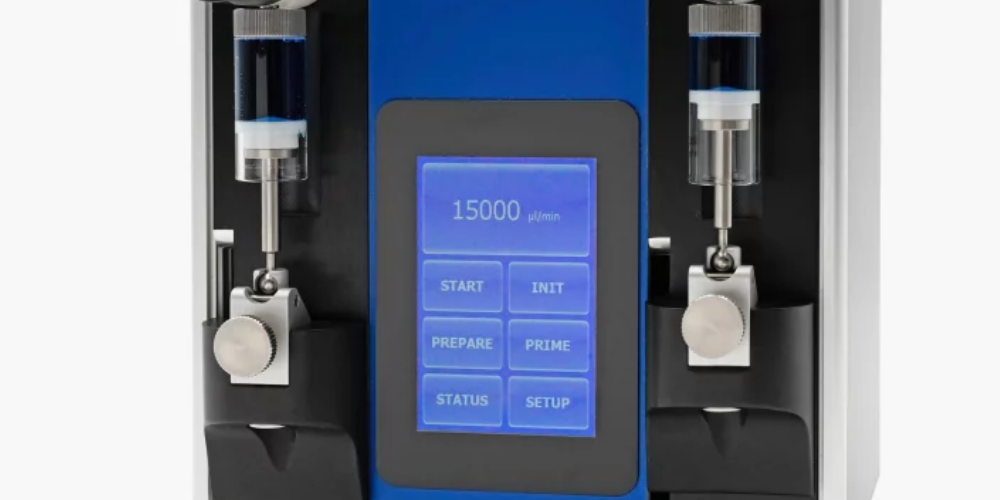 Duratec, a leading manufacturer of liquid handling devices, services the chemical, pharmaceutical and biotechnology industries. They're committed to delivering exceptional, accurate and user-friendly devices to their clients, spanning governmental institutions, research institutes, universities, hospitals and specialised service providers. The company was seeking a solution to simplify the control interface of their new devices. Here's how 4D Systems helped Duratec launch a new product suite with an intelligent display module and user interface.
Outdated control panels and an opportunity to improve user-centricity
Liquid handling and automation offer significant advantages over manual processing in terms of accuracy, quality, and reliability. With the right components, single or multiple process steps can be partially or fully automated. This enhances precision and reduces the risk of errors and failures. It also frees up valuable time for end-users to focus on more valuable tasks. The user interface is a vital component of liquid handling and automation systems by ensuring the operator can interact with the equipment quickly and efficiently. However, Duratec's existing devices relied on software or complex control panels, with outdated control methods hindering the user experience.
"Until now, our previous devices were controlled by software or older and more complicated control panels. However, customers demanded simpler and also more modern technology."
Matthias Hönig, Duratec's Head of Sales
Duratec's goal was to enhance customer satisfaction by providing a user-friendly and modern interface for their liquid handling devices, while maintaining the capability to control them through the RS232 interface.
Solution: Choosing 4D Systems and the right display module
With a collaborative team approach to problem-solving, Duratec conducted their own market research to identify the most suitable solution and technology partner.
Duratec's research led them to 4D Systems, who stood out as the ideal choice due to the comprehensive range of products.
After extensive research, Duratec selected 4D Systems' gen4 range of intelligent display modules. Specifically, the SK-GEN4-35DCT-CLB touch display was chosen to address their customer pain points and deliver a better experience for their users.
After extensive research, Duratec selected 4D Systems' GEN4-uLCD-35DCT-CLB touch display to address their customers' pain points and deliver a better experience for their users.
The gen4 3.5″ Diablo16 Integrated Display Modules are part of 4D Systems' latest gen4 series. They offer a 3.5″ colour TFT LCD display, easy Arduino integration, touch detection, storage, communication, and audio generation. Designed with ease of integration and use in mind, the gen4 series is built to prioritise space and functionality and minimise the impact of display related circuitry, providing an easy, intuitive platform for integration.
As Duratec were first-time users, they chose the starter kit (SK-GEN4-35DCT-CLB) which includes everything needed to begin development immediately:
gen4-uLCD-35DCT-CLB display module
gen4-IB interface board
4D-UPA programmer
4GB Industrial microSD Card
150 mm FFC Cable
5-way female-to-female ribbon cable with male-to-male adaptor
"4D had exactly the product we were looking for. SK-GEN4-35DCT-CLB has an integrated processor and is freely programmable. Furthermore, it has RS232 and I/O interfaces, which were needed early for the control."
Matthias Hönig, Duratec's Head of Sales
Powerful 3.5" Intelligent LCD-TFT display module powered by DIABLO16.
320 x 480 Resolution, RGB 65K true to life colours, TFT Screen with integrated 4-wire
Choice of resistive, capacitive touch or non-touch interaction.
6 banks of 32750 bytes of Flash memory for User Application Code and Data.
16 General Purpose I/O pins for user interfacing, which include 4 configurable Analogue Inputs.
30 pin FPC connection, for all signals, power, communications, GPIO and programming.
On-board latch type micro-SD memory card connector for multimedia storage and data logging purposes.
DOS compatible file access (FAT16 format) and low level access to card memory.
Full colour image display, including animations, icons and video clips.
Outcome: Projects powered by 4D displays
With the implementation of the gen4-uLCD-35DCT-CLB touch display, Duratec launched three new liquid handling devices: D-Drive Pump C30-X60, D-Drive Dispense C30, and D-Flow. These devices drastically improved the user experience with user-friendly touch displays, allowing customers to control, monitor and interact with the devices.
They showcased Duratec's commitment to innovation and meeting customer demands, enabled by 4D System's display technology.
Product 1: Flowmeter d.Flow
The Flowmeter d.Flow is designed for checking the accuracy and fluctuation of HPLC (High Performance Liquid Chromatography) or dosing pumps.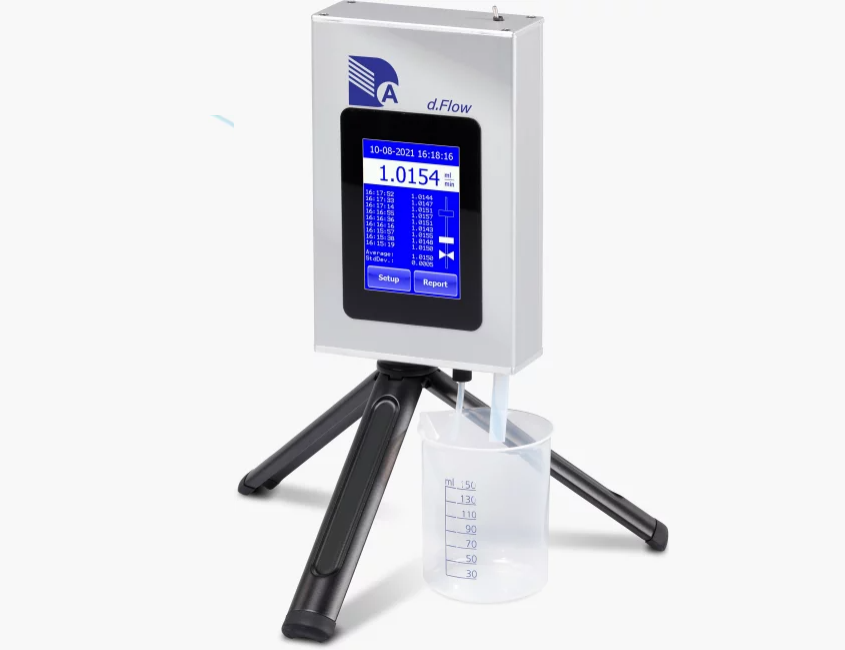 The Flowmeter d.Flow is designed for checking the accuracy and fluctuation of HPLC (High Performance Liquid Chromatography) or dosing pumps.
The measurement is volumetric by opto-electronic detection of the liquid level in a rising pipe. It determines actual liquid flow rate by measuring the time to fill a tube with constant volume. The time that passes between reaching a lower and an upper level is being measured and the flow is being calculated. When the upper level is reached, the rising pipe will be drained via a magnetic valve and the measurement starts again.
The integrated display (gen4-uLCD-35DCT-CLB) shows the measured value and the filling level. The measured values can be logged or transmitted directly via RS232.
Product 2: d.Drive DISPENSE C30
The d.Drive DISPENSE C30 SPS is a compact and high accuracy pump module designed for liquid handling applications in the range of 250 nl to 12.5 ml.
The dispenser is suitable for a variety of liquids, including aqueous, organic, aggressive, highly viscous, gaseous. The module can be controlled manually via the touch display (gen4-uLCD-35DCT-CLB), computer-aided via RS232 or using a PLC via the I/O interface.
Equipped with an active valve and a self-priming syringe, the module enables complete filling using the LOAD command. It offers 5 STEP functions that facilitate the execution of successive doses with adjustable parameters such as volume, dosing flow rate, start speed and end speed.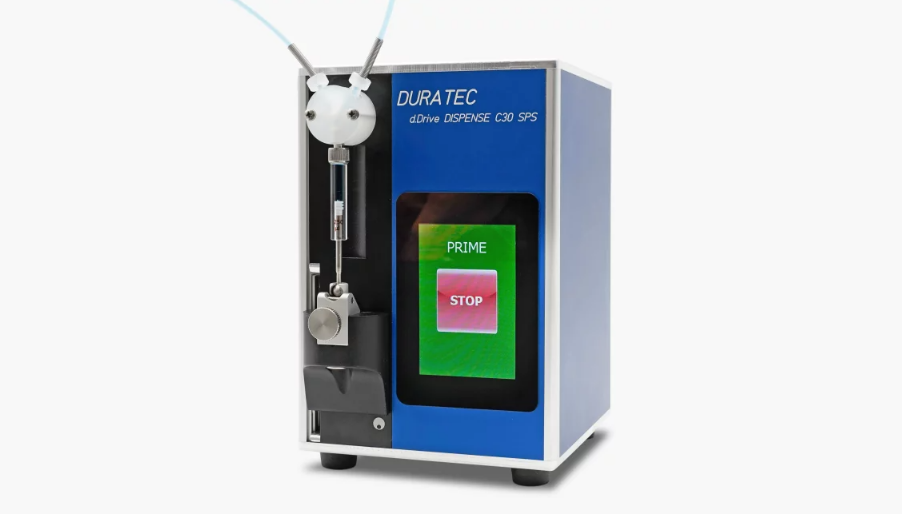 By modifying these dosing parameters, the flow and dosing characteristics of different mediums can be optimised to achieve precise and efficient dosing.
Product 3: d.Drive PUMP
The d.Drive PUMP is a high-precision, low-pulsation dosing pump for laboratory, process engi­neering and industrial applications for dosing from nl/min to ml/min.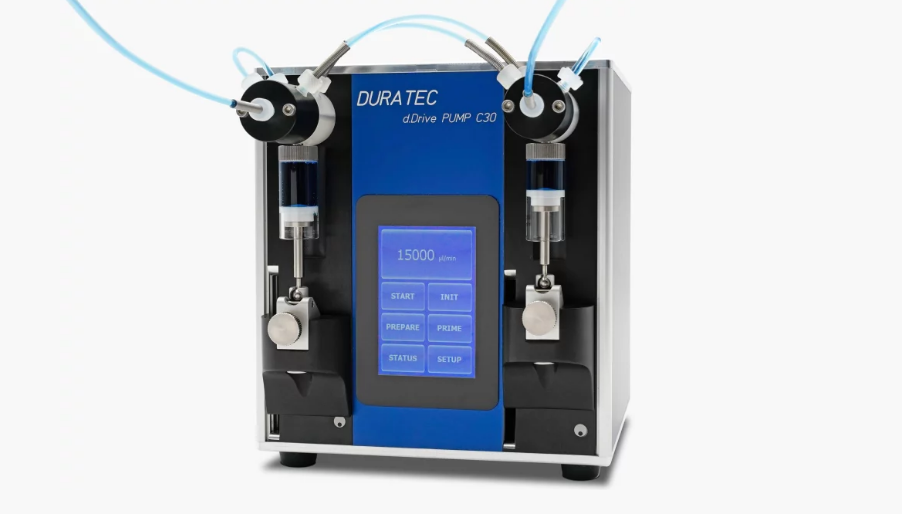 The pump can be controlled via the touch display (gen4-uLCD-35DCT-CLB), computer-based via RS323 or by PLC via an I/O interface.
The pump consists of two individual syringe drives. While one syringe delivers the liquid, the other syringe prepares for the subsequent stroke, ensuring smooth and continuous operation.
The flow rates of the pump, depending on the assembled syringe, cover a wide range from 0.04 μl/min to 300 ml/min. The pump also allows for both finite dosing and continuous flow.
Latest Posts
Subscribe to our newsletter