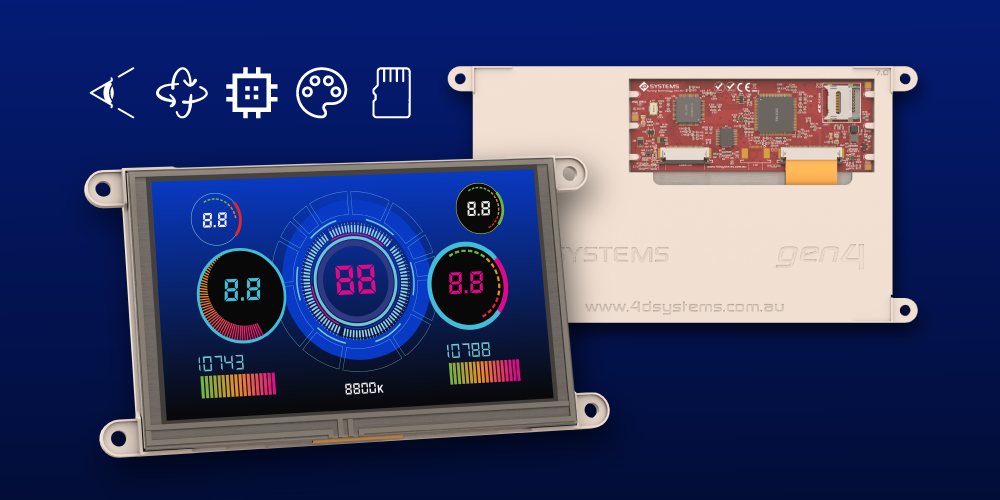 We are pleased to announce the expansion of our gen4 series displays to include Wide Viewing Angle (WVA) options. This novel addition to our gen4-uLCD product line demonstrates our continued commitment to advancing display technology, prioritising seamless integration, and delivering outstanding functionality.
WVA displays, despite utilising cost-effective TN display technology, provide significantly wider viewing angles, avoiding image inversion even when viewed from extreme angles. The result is a visual experience similar to that of an IPS display, expanding the applications that can benefit from wider viewing angles.
Powering these enhanced gen4 series displays is the feature-rich 4D Labs Diablo16 Graphics Processor. This robust processor offers a wealth of functionality and options, catering to the diverse needs of designers, integrators, engineers, and users alike. By choosing the gen4 series, customers can select between resistive and capacitive touch options, ensuring solutions tailored to various design requirements and application scenarios.
Our 7.0" gen4 range comprises several models:
Regarding integration, the gen4 series displays come with multiple serial interfaces, including SPI, UART, and I2C, ensuring seamless connectivity with other hardware components.
The incorporation of WVA displays into our gen4 series signifies an important milestone in our enduring commitment to pushing the boundaries of display technology. Our focus remains on developing innovative, user-friendly, and high-performing solutions that shape industry standards.
Stay connected with our blog for more product news and insights, and explore our white papers and resource centre for comprehensive documentation and updates on the latest trends in embedded displays.
Experience the future of display technology today with the gen4 series – Wide Viewing Angle Displays.
Latest Posts
Subscribe to our newsletter