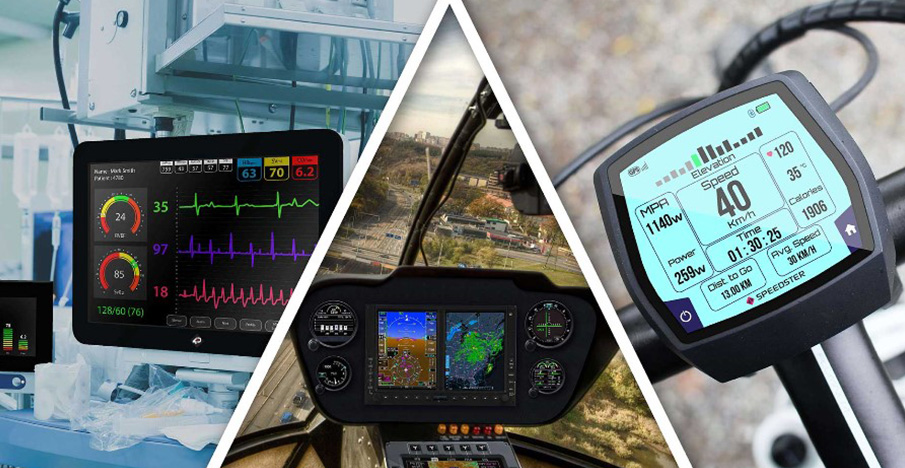 To truly understand what makes 4D Systems different as a provider of intelligent display solutions, we spoke to clients, engineers, distributors and technical support staff to find out why customers prefer us over our competitors.
Here are 10 of the most common reasons why people choose 4D Systems.
1. Quality Australian systems and ISO certification
"Peace of mind is a wonderful thing."

Our customers never doubt our quality, and it goes without saying that quality matters every step of the way. We are committed to building state-of-the-art intelligent display solutions, and our factory in Sydney is central to bringing our solutions to life. We also have manufacturing facilities in China and the Philippines.
4D Systems is certified under ISO 9001: 2015 and our production team is made up of seasoned electronics and software engineers who work in close partnership with only ISO 9001-certified factories under our stringent Quality Assurance Procedures. All 4D Systems products are 100% lead-free and RoHS-compliant in accordance with Australian and International Restriction of Hazardous Substances regulations.
2. Tailor-made solutions
"We had a problem and you designed an actual solution for us."
Every client has their own unique challenges. 4D Systems provides the solutions. Our customers trust us because we take the time to understand them and help design a tailored solution that speaks to their specific project and their bottom line.
Enterprise manufacturers, engineers, design houses and hobbyists all appreciate that we offer a complete package to suit a range of needs. One engineer might need a scalable solution that doesn't require investing in new software while also keeping development time to a cost-effective minimum. For another, an off-the-shelf 4D display could bring new life to obsolete hardware and provide dynamic connectivity options for a broad range of projects and integrations.
We have a passion for scientifically exploring new ways to meet your needs.
3. We are family
"There is such a close vibe and the team is always happy."
4D Systems is a family-run company that comes from humble beginnings. Founded in a garage by our CEO Atilla Aknar, today Sinan Aknar leads our committed team. This company started as an idea and has grown to become a market leader for engineering real-world solutions.
Having navigated our way through uncertain times, GFCs, and the recent COVID-19 pandemic, it is a testament to the resilience of our team, our community and our never-give-up attitude that we find ourselves firmly positioned as a global leader in embedded intelligent display solutions. But at our core we remain one big family and value our staff as individuals who deliver innovative solutions to the world – not as resources, but as humans.
4. Future-proofing industries
"Your systems are driving innovation across our industry."
Our unrivalled time-to-market from initial prototyping all the way through to finished product is what many of our clients love most about 4D Systems. No matter the industry, we have the display solution to solve your problems.
Our modules are used in a variety of applications – from high-value, low-mix end products and mid-volume industrial applications, to high-volume mass market applications. We are also regularly engaged in developing custom design solutions to help our clients future-proof themselves against a rapidly evolving market.
5. Dedicated purpose
"It's obvious that creating a fantastic solution is more important than the transaction itself."
Above all things, we stand for purpose over profits. We utilise our resources to generate solutions to problems, and our innovations help unleash creativity in everyone who uses our products. Ultimately, we are committed to finding true purpose in everything we do, from helping customers to developing sustainable solutions that last the test of time.
Click here to learn more about our Purpose and Values.
6. Winning software
"Workshop4 Integrated Development Environment (IDE) – it's amazing!"
Having a feature-packed graphic display is one thing, but putting it to good use is quite another. So we came up with Workshop4 IDE, a tool that lets users design smart graphical user interfaces (GUIs) quickly and easily.
It's now the tool of choice for programming modules as it features multiple development environments, from text-based to visual programming. Together, they allow the user to have a GUI up and running in minutes rather than days – benefiting a range of users from the pro-maker to the most demanding engineer. The result? Projects are finished faster, look better and open up more possibilities.
7. Rapid prototyping
"You work efficiently and communicate rapidly, which is refreshing."
Speed is king. We exist to jump-start development times with products designed specifically for ease of integration and swift application development. Customers are often surprised by our responsiveness, exceeding expectations to expediting development, while allowing for exceptionally fast prototyping and deployment. This is testament to our team and agile work culture.
As product-development lifecycles diminish, we've seen increased pressure on time-to-market. Even larger organisations with seemingly unlimited resources are delighted by our flexible and scalable display solutions.
8. Partnering with leaders of industry
"The best in the business choose 4D Systems because you are the best at what you do."
Our projects run the gamut across almost every industry, and we are proud to have supported countless businesses, multinationals and entrepreneurs achieve their ambitions with the help of our systems. We have shipped more than 1 million units to clients operating in medical, industrial, automotive and commercial spaces. Some of our products have even been to space!

Click here to view our global case studies.
We take great honour in seeing our products saving lives through medical ventilators, cancer treatment and research, vitals monitoring and many other applications. We want to continue empowering forward-thinking engineers, designers and organisations who, by partnering with us, also help to solve real-world problems and make a positive impact – one display solution at a time.
9. Untarnished reputation for quality
"Proven products and frequent innovation."
Since the very beginning, we have forged our place as a global leader for intelligent displays and graphics processors. We're known for consistently providing superior, state-of-the-art, commercially-ready embedded graphics solutions – sold directly to customers or through our global network of distribution partners.
We have the innovative graphics display solution for virtually any application requiring a graphics display – with or without touch. Plus, with world-class manufacturing facilities around the globe and growing, our engineers are always investing time and energy into researching the most innovative solutions our clients have ever seen.
10. Relationships that last a lifetime
"The relationship didn't end once we had the hardware. That meant a lot."
We are committed to delivering a lifetime of live, competent, responsible and personal technical support. Our engineers take the time to actively listen to your needs before deep-diving into your specific goals and problems. That allows us to develop the best possible solutions for you over the life of your business.
With 4D Systems, you're never alone. Our in-house team of seasoned electronics and software engineers are on stand-by supporting fast implementation, impeccable problem-solving and ongoing advice. The conversations we have with our clients also fuel our investments in R&D and our core technology. It's a cycle of information and support that leads to win-win scenarios all-round.
We are redefining what customers should expect when it comes to meaningful relationships and world-class customer support.
Latest Posts
Subscribe to our newsletter