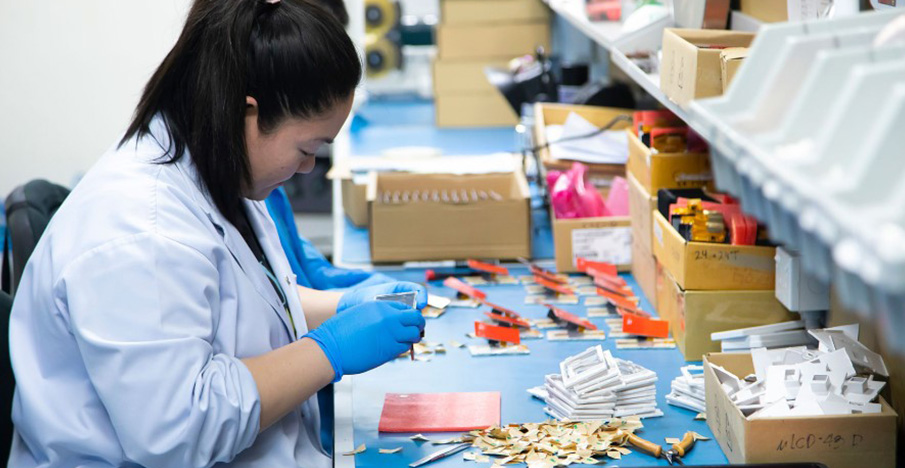 There's no denying that the global pandemic has disrupted supply chains, impacted businesses and caused widespread fears about ongoing operations. But despite the unexpected challenges, 4D SYSTEMS has gone from strength to strength and we're excited to share what's been happening internally.
From shortages to surging demand
Major disruptions to global supply chains have caused shortages of everything from construction materials and pharmaceutical supplies to a variety of consumer goods.
Because of this, 4D SYSTEMS has seen businesses really amp up their purchases. To help meet demand and ensure our clients get the supplies they need for their critical projects, we've been working closely with our distributors and our Original Equipment Manufacturers (OEMs) to keep up with demand during this volatile period and keep up with a surge in demand.
Our unstoppable team
It's safe to say that given the huge production requirements, we've experienced one of the biggest production periods over June and July. With an incredible amount of orders to fulfil, the 4D SYSTEMS team has gone above and beyond to help our clients get exactly what they need.
Ultimately, 4D SYSTEMS exists to help engineer solutions that unleash human creativity. We believe in the importance of intuitive technology that helps solve human needs and problems.
One of our core values is Courage in Creativity, through innovation in creating products and solutions for ourselves and our customers. This extends father than our engineering team, and creativity is a key ethos that permeates across our entire organisation.
Our manufacturing team in Sydney Australia have shown a relentless drive to think outside the box and solve problems for customers to meet huge production orders, and a range of testing customer scenarios in service of many industries from aerospace to medical equipment engineering.
This team reflects the engine room of 4D SYSTEMS and are behind the crafting, production, quality control, packaging and shipment of all the orders which our customers receive around the world. They make sure innovative ideas form into tangible products and applications that unleash imagination and solve human problems. We could not appreciate their efforts more, and during a particularly testing time, they have shown their metal again and again. We would not be here without their efforts along with those of the entire 4D team.
Supporting the medical sector at a key time
At 4D SYSTEMS, we see ourselves as much more than just an intelligent display leader. We pride ourselves on innovation, and are always looking at how we can integrate new efficiencies while meeting our ISO standards of quality.
Some of the work we've been most proud of during these tumultuous COVID times include contributing to smart medical solutions – from highly dependable medical devices to an invasive medical ventilator.
To show our appreciation for our teams dedication and efforts, we gave our production staff the day off as a small token of appreciation. They've shown courage in creativity, kept up with demand, designed new processes and solutions, exceeding quality benchmarks and ultimately gone above and beyond for our customers.
A big thank you to our entire 4D SYSTEMS team as well as our wonderful customers who've worked with us closely over the last 18 months during these testing times. We are still here and working hard to meet growing demand, so to learn more about our production possibilities and for all your intelligent display solutions you can contact us today.
Latest Posts
Subscribe to our newsletter