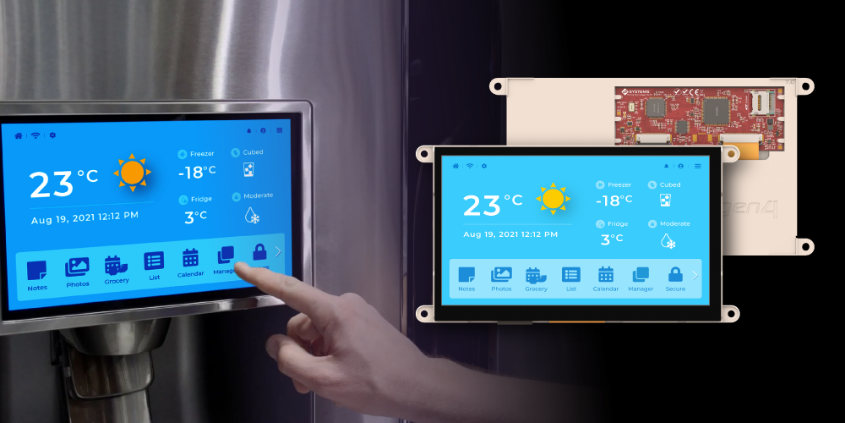 gen4 intelligent display modules offer a modular design approach for simpler application development and faster time-to-market.
Embedded Displays: The Unseen Catalysts of Technological Interaction
Every day, we encounter embedded displays that blend effortlessly into our daily routines and activities. These displays, although often unnoticed, are discreetly incorporated into the complex devices we rely on, extending beyond just smartphones, televisions, and other large electronics. Whether it's in our homes, workplaces, or public areas, these small but crucial displays play an important role in our interactions with innovative technology.
In our everyday coffee routine, we depend on the digital interface of our coffee machine to customize our brew. These tiny embedded displays, though often ignored, offer us a seamless and intuitive way to interface with the devices, effortlessly transforming a once complex process into a simple experience.
In addition to their domestic applications, these displays serve as the foundation for numerous industrial monitoring systems. Whether it's ensuring machinery operates under optimal conditions, monitoring environmental factors, or managing production lines, these embedded displays offer essential real-time information.
In our ever more interconnected society, embedded displays are used by home automation systems to create intelligent and engaging living environments. From thermostats to security systems and automation interfaces, these displays not only offer crucial information but also enable us to configure and manage our devices. With their user-friendly design, they simplify the control and customization of our living environments in a straightforward manner.
However, it is crucial for manufacturers to carefully select the appropriate display that meets all the required specifications and interaction capabilities. Equally important is the inclusion of robust system-on-chips within the intelligent embedded display modules, as they are responsible for powering the entire system and delivering a smooth interactive experience to the user.
This article aims to examine whether the gen4 series of intelligent display modules, which are driven by processors from 4D Systems, are suitable for meeting your specific application needs.
The Family of gen4 Display Modules – What Are They?
After gaining valuable on-field experience across various industries, 4D Systems has successfully created the gen4 series of intelligent display modules. This versatile and highly regarded display platform has been developed based on widespread adoption of intelligent LCD display devices in different applications and the successful implementation of numerous customer projects in commercial settings.
The series comes with a diverse range of sizes and touch capabilities to cater to different needs. These modules are purposefully designed to integrate efficiently with a wide range of host microcontroller units and processors, including those with limited pin counts.
The gen4 series offers impressive features suitable for both industrial and home applications. They provide the convenience of choosing between resistive touch or capacitive touch options. Powering these gen4 display modules is the company's own Diablo16, and Picaso, and Pixxi graphics processor, which delivers a multitude of functionalities and options for designers, system integrators, and end-users.
A compelling reason to opt for gen4 series intelligent embedded display modules is the availability of pre-developed and validated drivers, primitives, and GUI functions. This allows the host microcontroller to offload display-related tasks, freeing up system resources for primary applications. Consequently, users can concentrate their efforts on GUI design without getting bogged down in time-consuming low-level development tasks.
In terms of software, the modules are equipped with integrated development environments (IDEs) that simplify the GUI design process. These user-friendly IDEs offer intuitive drag-and-drop functionality, facilitating fast prototyping and application development without the need for extensive coding.
The gen4 series display modules adhere to a modular design approach. Utilizing this modular design, it becomes evident that application development becomes significantly simpler and more straightforward when compared to a discrete design. As a result, the time to market is reduced, enabling faster product deployment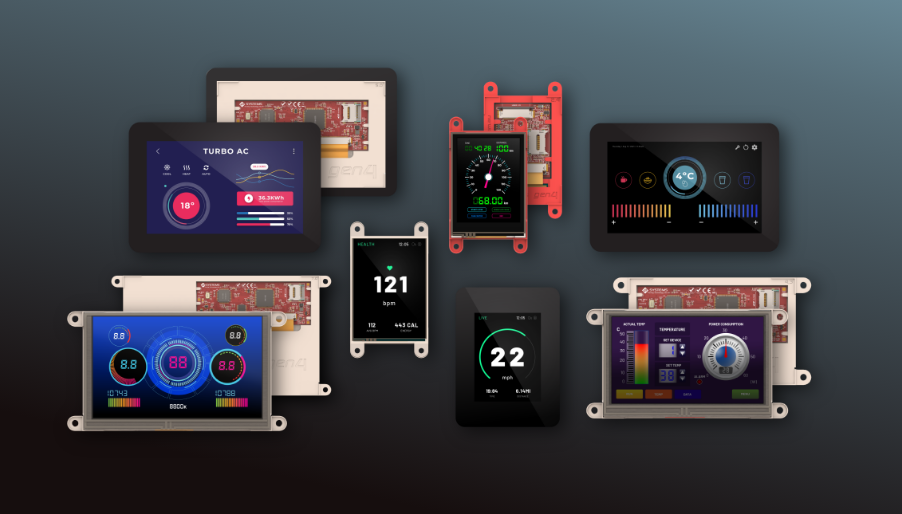 Why Choose gen4 Human-Machine Embedded Displays?
In this section of the article, we will explore some of the noteworthy characteristics of gen4 intelligent display modules. These modules emerge as an ideal and go-to option for seamlessly integrating small displays into embedded applications on a large scale.
1. Powerful Embedded Processor
When considering a smart display module, the initial aspect to consider is the host microcontroller or processor, as it determines the module's performance and efficiency. The graphics processor developed by 4D Systems offers exceptional functionality as both a standalone embedded graphics processor and as an interface to almost any host controller, functioning as a graphics co-processor. These gen4 HMI modules are equipped with 4D Labs Graphics Processors.
Designed for easy integration with a variety of OLED and LCD display panels, the custom-embedded 4DGL graphics controllers offer exceptional compatibility and functionality. Among these controllers, the Diablo16 stands out as a more powerful option compared to the Picaso and Pixxi variants. It boasts superior flash storage, random access memory, and graphic capabilities. This explains why 4D Systems offers a wide range of gen4 displays powered by the Diablo16 processor, as it enables impressive graphics, text rendering, image processing, and animation capabilities.

2. Range of Sizes and Touch Capabilities
4D Systems provides a diverse selection of display sizes, ranging from 2.4 inches to 7 inches, allowing users to choose the ideal display size based on their specific application needs. In terms of availability, the Picaso processors are limited and come in three sizes (2.4 inches, 2.8 inches, and 3.2 inches). On the other hand, the Diablo16 and Pixxi modules offer a wider range of sizes, starting from 2.4 inches and going up to the 9-inch format.
The next consideration is determining the most suitable interaction type for your desired application. These display modules present a variety of options, including non-touch, resistive touch, and capacitive touch variants. Capacitive displays are often preferred by manufacturers for their advanced and intuitive touchscreen experience.
When selecting the appropriate display type, it is crucial for users to assess the application parameters and the expected level of user interaction. This evaluation simplifies the process of choosing the right display module for their specific needs.
3. Support for Popular Hardware Interfaces
4D Systems acknowledges the widespread adoption of Arduino and Raspberry Pi hardware platforms across various industries due to their well-established ecosystems and extensive network of trusted design partners.
To cater to this demand, the gen4 series of intelligent display modules are fully compatible with both these popular and widely used hardware devices. This compatibility provides customers with increased flexibility and options to customize their displays, allowing them to maximize performance for their specific applications.
4D Systems has designed the gen4 HMI modules to efficiently integrate with almost any host processors or platforms. Recognizing the extensive utilization of Arduino and Raspberry Pi hardware platforms in various industries, thanks to their well-established ecosystems and reliable network of design partners, the company has developed software libraries that cater to these popular hardware platforms. This includes comprehensive support for Rock and BeagleBone, enabling smooth integration between the gen4 HMI modules and these widely adopted platforms.
4. Mounting Options
4D Systems offers the convenience of 3D printable enclosures, which are designed to simplify the process of mounting display modules on walls, panels, or within larger enclosures. This feature enables the overall usability and installation options for integrating the gen4 series display modules into various applications.
For example, consider the application of a home automation system where the gen4 series display module requires mounting on a wall, serving as a centralized control panel for managing numerous smart devices within the home. This scenario exemplifies the versatility of utilizing 3D printable enclosures alongside gen4 display modules, showcasing their ability to enhance the functionality and aesthetics of diverse applications.
5. Aesthetic Design With Protection
In addition to enhancing the aesthetics of the device and screen, 4D Systems incorporates a cover lens bezel, which offers not only cosmetic value but also practical benefits. These advantages include providing protection for the display, facilitating easy replacement if needed, securely holding the components in place, and improving overall usability. It is important to note that the cover lens bezel is available for all gen4 display modules featuring capacitive touch and non-touch functionality resistive touch functionality.
By incorporating a bezel, an additional layer of protection is provided to the device's screen, effectively shielding it from external impacts. The integration of bezels serves the purpose of minimizing unintended interactions with the display, ensuring an intuitive a more easy user experience.
How Is a gen4 Display Module Used In a Commercial Coffee Machine?
South African coffee machine manufacturer, Henlo, recently utilized a 4D Systems gen4-uLCD-43DCT-CLB display module with an embedded Diablo16 processor and a capacitive touch panel. Additionally, the manufacturer opted to also use two 1.3" round pixxiLCD intelligent display modules, which feature the embedded Pixxi-28 processor and a capacitive touch panel complete with a cover lens bezel.
According to Henlo van der Westhuizen, the designer, incorporating these screens as input/output components adds a comprehensive software layer between customers and the machinery. This integration ensures customer satisfaction even in the presence of minor issues that may arise during operation.
After carefully considering the coffee machine's display needs, Henlo van der Westhuizen identified the importance of having a glass bezel for the display, which effectively protects the screen from moisture exposure during the coffee brewing process. Leveraging the robust GUI tools offered by 4D Systems, Henlo's designers gained the flexibility to create an interface that precisely met their customers' expectations in terms of aesthetics and functionality.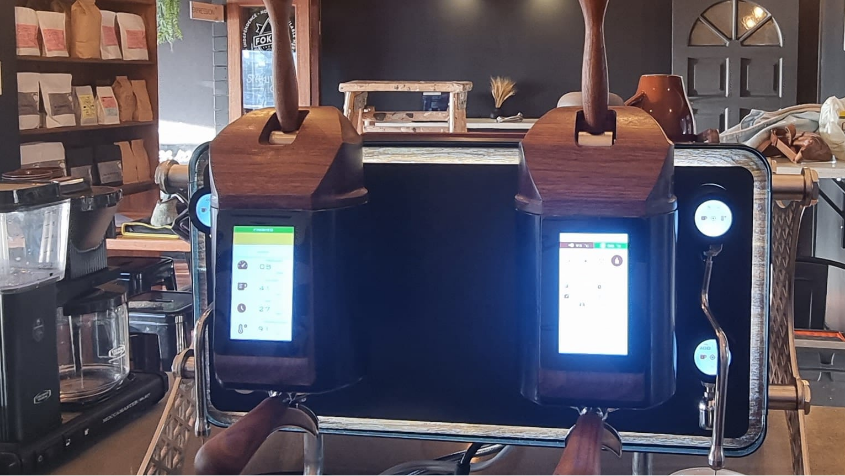 Henlo, South Africa:Henlo Premium Espresso Machine
Can gen4 Be Used In The Healthcare Industry Too?
CEiiA, a Portuguese research and development firm, responded to the challenges posed by the Covid-19 pandemic by creating Atena, an invasive medical ventilator.
This innovative device incorporates key components, including the 7.0-inch gen4-uLCD-70DT display and the gen4-BEZEL-70B, sourced from 4D Systems. These display components play an essential role in the functionality and operation of the ventilator. "We required the graphic display to be intuitive, easy to program, feature-rich, and most importantly, reliable for the project. The gen4-uLCD-70DT met all of these conditions, and we programmed it using the 4D Workshop4 Pro IDE and Visi Genie environment," says Tiago Rebelo, director of the Product and Service Development Unit at CEiiA, the Centre of Engineering and Product Development.
The team acknowledges the remarkable achievement of completing the development within an accelerated timeframe of just 45 days, largely attributed to the utilization of readily available display modules from the gen4 series. Leveraging these off-the-shelf display modules, CEiiA managed to manufacture around 1,000 units of the initial ventilator version, meeting the local demand for this critical medical equipment.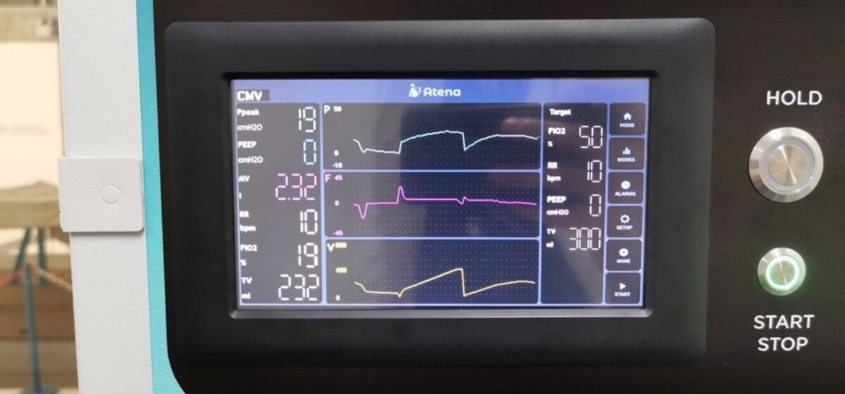 CEiiA, Portugal: Atena Invasive Medical Ventilator
There You Have It, a Proven Performer.
In conclusion, the 4D Systems gen4 series of intelligent display modules are proven to be a valuable addition to your applications across industries. These modules excel in their ability to seamlessly integrate, exhibit compatibility with different hardware platforms, and provide a wide array of display sizes and interaction options, making them highly versatile for commercial applications. With their powerful processors and robust functionality, they continue to drive innovation and efficiency within the embedded display industry.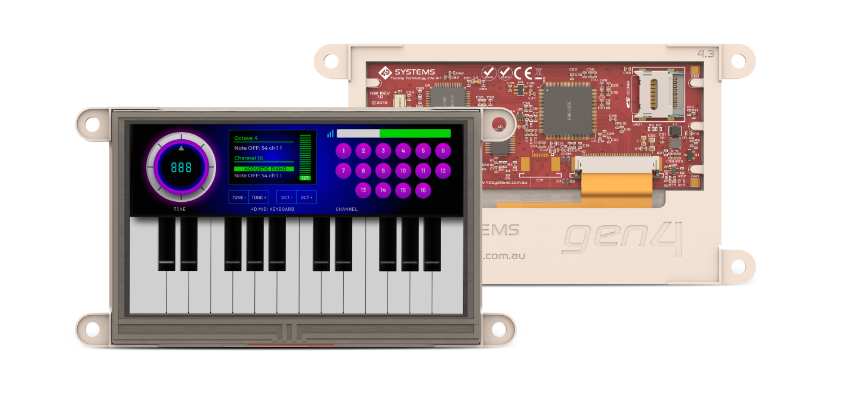 For more details regarding the range of gen4 display modules, additional information can be found on our website. If you require assistance in selecting the most suitable display module for your needs, please feel free to contact us for expert support and guidance.
Until next time.
Latest Posts
Subscribe to our newsletter